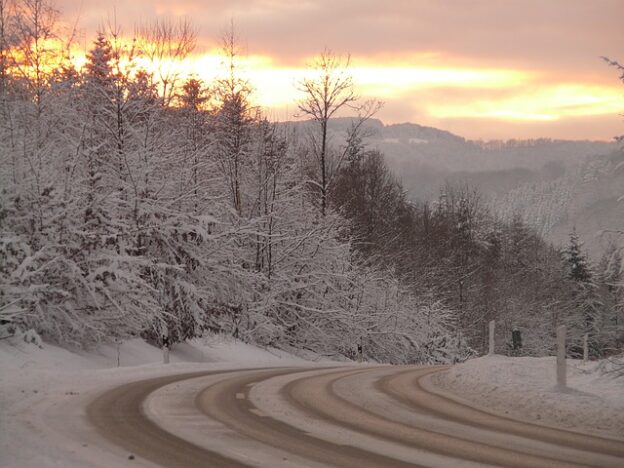 Winter is a difficult time of year for drivers, especially those who work for a living and spend the most time on the road.
Taxi drivers, couriers and hauliers will find themselves on the road at all hours during what is inevitably a busy time for everyone who is a professional driver.
Dark nights and shorter daylight hours, freezing conditions and unseen perils like black ice combine to make driving in winter more dangerous than other times of the year – especially if you don't know what to do in these conditions.
We've put together some simple advice to keep yourself out of trouble on the roads at this time of year.
Prepare your vehicle
Seems fairly obvious, but making sure tyres are properly inflated and have sufficient tread depth, your screens and windows are free of ice and snow, your passenger doors are not frozen shut, your heating is working properly and you have plenty of fuel on board should reduce the chance of accidents happening.
You might consider winter tyres to see you through this time of year, and even have snow chains in your vehicle just in case you get caught out in snow or ice.
Make sure you also have an emergency kit on board, with the essentials you need to get your vehicle moving in case you breakdown or are stranded at any point.
Take regular breaks
Statistically, you're more likely to fall asleep at the wheel in winter months. Avoid this by driving no more than 3-3½ hours without taking a break. Make sure you have plenty of snacks and water with you to ensure you stay hydrated and alert when required.
While it's tempting to keep going without rest to make the most of the jobs you get during winter, make sure you don't spend so much time on the road that you are fatigued, risking the safety of yourself and others while out on the road.
Know what to do in the conditions
It's important to know what to do to keep your vehicle moving and how to react if you lose control in slippery conditions. Our top tips are:
When setting off in ice or snow, select a higher gear than normal and avoid using first gear if you can. In automatic vehicles, select any mode for icy conditions when temperatures fall if you need to do so.
Ensure you give yourself much more braking distance than normal, leaving gaps between your vehicle and others to allow for the greater stopping distance required in slippery conditions.
Most modern vehicles have anti-lock braking, but if you don't or it fails for any reason and you feel yourself losing control, pump the brakes slowly to avoid your wheels locking up.
If you find yourself skidding uncontrollably, take your feet off the pedals and steer to safety.
Stay safe with insurance from ChoiceQuote
ChoiceQuote lead the way in insurance for taxi drivers and couriers. Find out more about our services and get a quote on our website today.