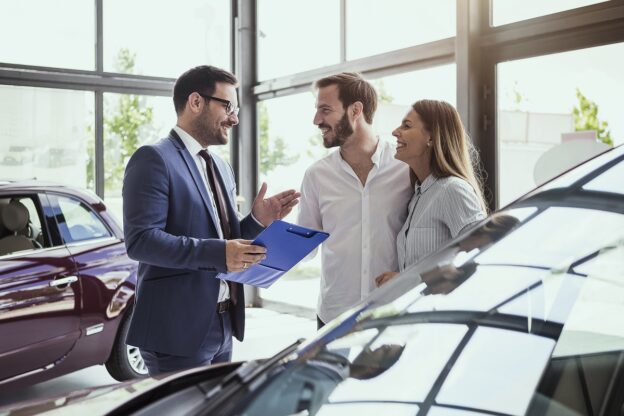 If you want to make your cars, motorbikes, or commercial vans more affordable for customers, then, as a car dealer, you could offer finance options. This helps your customers spread the cost of an expensive purchase, making it more affordable for them.
To provide finance as a motor dealer, you'll need to be authorised by the Financial Conduct Authority (FCA).
In this guide, we'll explain:
Who are the FCA?
The FCA – formerly known as the Financial Services Authority (FSA) – regulate the UK finance industry. They ensure that customers are treated fairly, overseeing almost 60,000 businesses.
The FCA make sure that customers can take out credit with reputable companies who look after their interests.
Without regulation, customers could:
Be charged unfair interest rates
Have inappropriate fees applied
See their options for finance limited
Lack protection if anything goes wrong
Why you need FCA approval to offer finance
Motor dealers who directly provide credit, or offer access to third-party credit facilities, must apply to the FCA for authorisation. This is to ensure that your customers get a fair deal on the finance offered to them.
If you offer credit to customers and do not have authorisation from the FCA, you could be fined and risk criminal convictions. Your reputation will also be damaged if you are seen not to be acting in your customers' best interests.
Reputable credit lenders and brokers will not deal with you if you don't have FCA approval.
What are FCA 'limited permission' and 'full permission'?
There are two types of FCA approval for motor dealers:
Limited permission – If your main business is selling vehicles and offering credit facilities is secondary to this, then you should apply for limited approval. This will allow you to introduce credit brokers or lenders, who will be directly regulated by the FCA themselves.
Full approval – If introducing customers to credit lenders or brokers is your main business activity, or if you sell general insurance, then you will need full approval from the FCA. You do not need full approval if you just are an appointed representative (AR) of an insurer or insurance broker, introducing business to them.
Most motor traders will only need limited approval because your main business is selling cars or other vehicles. Limited approval will allow you to make up to £50,000 income a year on finance.
If you are in any doubt, contact the FCA for advice on providing motor finance.
How to get approval from the FCA
Before you apply to the FCA for authorisation, you will need a business plan.  When presenting your plan, the FCA will consider your approach to:
Objectives and customers
People and governance
Plans and projections
It is worth visiting the FCA website for more information, so you understand what they are looking for and your obligations to them. Some finance providers will help with you this, as well as putting packs together to provide to customers. Compliance firms can also offer advice to assist you.
You may also want to speak to other traders who have successfully applied for their advice, too.
Once you have done the groundwork, you can apply for registration with the FCA online.
FAQs
Do motor traders/car dealers need to be FCA approved?

You only need to be FCA approved if you offer finance to customers. That could be providing finance yourself or, more likely, introducing customers to a third-party finance company.

What are the benefits for motor traders offering approved finance?

By offering customers conditional sale, PCP (Personal Contract Purchase) and hire purchase agreements through credit providers, you are giving them additional options to make their vehicle more affordable
You can make commission on finance sales by introducing the customer to a credit broker, or providing credit yourself
You stay legal and protect your customers
You could make more money on the sale price of your vehicle

How much does it cost for a motor trader to be FCA approved?

Limited permission costs from £100 for a small to medium-sized dealer. The FCA will review how much income you generate from finance to decide the overall cost of authorisation.

How long does it take to apply for FCA approval?

While the FCA state that it can take up to 6 months, it normally takes just a few weeks for a successful application. Make sure you provide as much information as possible upfront to speed up the process.

As an FCA approved dealer, where can I get advice?

Your credit lender or broker can offer advice to you on the correct way of referring business to them and managing credit arrangements.
There are a number of firms providing compliance support, often with free consultations.
The FCA also offer help and advice via their website.

What if I apply for FCA approval and I am unsuccessful?

You will not be able to offer credit for customers to purchase vehicles without approval. Make sure you maximise your chance of being approved before sending your application to the FCA by following the steps outlined above.