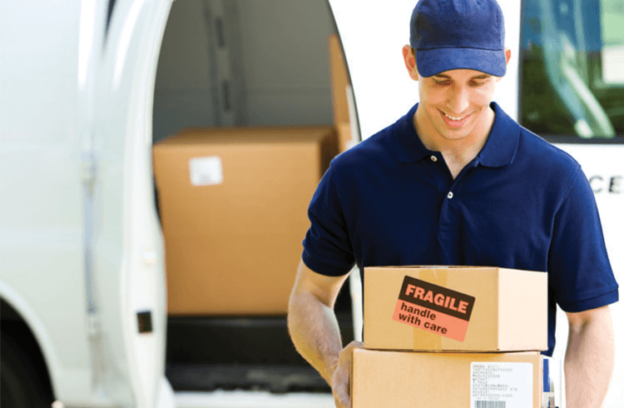 As Christmas rapidly approaches, the demand on couriers to deliver goods across the country increases. Alongside added pressure from companies promising next day deliveries, how will UK couriers cope and how important is effective courier van insurance and goods in transit insurance?
The Christmas holidays are upon us. Following the rush of Halloween and Black Friday commercial pushes from retailers and supermarkets, UK households prepare to make their final big purchases of the year as the 'golden quarter' for the retail industry comes to an end.
Over the next week, thousands of UK households will purchase last-minute gifts for their loved ones. For couriers, this likely means your schedule could never be busier. And with the increasing number of companies that promise next day delivery, the need for effective courier van insurance and goods in transit insurance is greater now than at any other time in the year.
So, as the retail industry ramps up its productivity in the lead-up to Christmas, how will you be affected as a courier and what will 2019 bring for the industry? Let's take a look.
E-commerce is still driving the change
A key driver of this movement is the unquenchable need for convenience
While UK online retail sales growth has been relatively subdued this year, it's no lie that e-commerce still plays a central role in today's consumer lifestyle.
According to the IMRG Valuing Home Delivery Review, the total volume of orders despatched in the UK will exceed the 1.5 billion mark for 2018, which is up 32 per cent from 2016.
Despite the UK's uncertain political and economic future in anticipation of a final Brexit deal, we're still seeing that Brits are willing to pay a little extra for their goods to be home delivered. Dominated by such players as Royal Mail, Hermes and Yodel, the UK parcel market still endeavours to cater to the voracious demand for online shopping.
A key driver of this movement appears to be the unquenchable need for convenience. This is perhaps best illustrated by Waitrose's trial this year of 'in-home' deliveries – an outlandish concept where items are actually unpacked directly into the customer's home by the courier.
While it's too early to see whether this will be a winning formula, it's certainly illustrative of the retail industry's move to offer increasingly attractive e-retail services to their customers. And with steep competition in the sector, who knows what will come next.
To keep up to date with developments in the courier industry and the impact of future national policies on the sector, or to receive a quote for courier van insurance or goods in transit insurance, get in touch with ChoiceQuote today.
Meeting expectations (the life of a courier)
How are next-day delivery promises impacting the industry?
'Demanding' is how many couriers might describe their customers and clients. While this may be a result of generational expectations for fast, efficient services at the click of a button, there is also a great deal of pressure from employers who promise their customers next-day delivery.
Next-day delivery services are used as a strategy to drive sales and retain customer loyalty with the promise of better services than competitors, but how many retailers actually follow through?
According to data from the IMRG MetaPack UK Delivery Index, the percentage of orders arriving on-time has declined over the past 18 months, now established around the 90 per cent mark. Many, including IMRG, have commented on the larger implications of this on the industry, noting how overpromising and underdelivering could impact how the industry performs overall moving into 2019.
Naturally, couriers will have to take the brunt of this responsibility and will be tasked with meeting ever-increasing delivery expectations this winter, on top of already demanding working conditions.
It's also a time when courier van insurance and goods in transit cover is more important than ever to provide a level of security against the increased likelihood of accidents taking place over the holidays, as couriers spend more time on the roads.
On the flip side, the current demand for courier services is certainly positive, but until the tide turns and focus is placed on managing customer expectations, rather than impressive (and sometimes unachievable) delivery times, couriers are likely to feel the heat.
Staying protected with courier van insurance
If you're not sufficiently covered, you may pay the price of incomplete deliveries from your own pocket
As recent evidence suggests, a great deal of pressure has filtered down to couriers in order to deliver on their employers' promise of next day deliveries this year.
We've talked before about the impact this can have on delivery networks and the inherent dangers that come with tight delivery schedules, but for couriers currently in the game or those considering a move into the sector, it's worth reminding yourself.
As well as covering yourself against potential delays or missed delivery times in the event of unforeseen circumstances, effective courier insurance will protect you against general road risks. Accidents and emergencies are much more likely to occur during hectic periods of delivery requests, so adding this layer of security to your business is a great move.
Also, as a courier, it is important to remember that you are responsible for any loss, damage or theft of your client's property while it is in your vehicle. Effective goods in transit insurance will protect you against such unfortunate losses.
Ultimately, there are many different types of courier insurance, so it's worth checking what best suits you and your business activities. The team here at ChoiceQuote are always happy to advise.
If you're aiming to get your packages delivered just in time for Christmas, make sure you're fully covered!
If you're searching for effective courier van insurance or goods in transit insurance to cover your activities this winter season, get in touch with ChoiceQuote today.