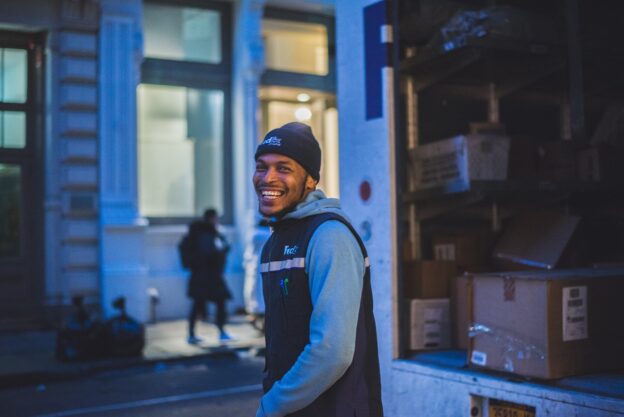 Now is a great time to be a courier. The big players, such as DHL, FedEx and Hermes, dozens of smaller firms and self-employed contractors are all competing to deliver goods from online retailers.
It is a boom time for the industry, whether you just want to earn a little extra money using your own vehicle, or you run a courier business with decades of experience and you need extra drivers to handle the surge in new business.
We know that getting the most appropriate cover for your business can be tricky. You don't want to end up paying for cover you don't need, or miss out on the cover you do legally need. Understanding the complexities of cover isn't easy, which is why we have put together this guide to courier insurance.
In this guide, we explain:
Insurance needed for couriers
There are three things to consider as a courier:
Insurance for your vehicle.
Insurance for the goods you are transporting.
Insurance for public liability (to cover injury claims from members of the public while you are carrying out your work).
Let's take each one individually.
Courier van insurance
The first thing you need is insurance for the vehicle you use for deliveries.
Courier van insurance allows you to drive your vehicle specifically for courier use: picking up and delivering parcels, packages, newspapers, and letters. It takes account of the fact that, as a courier, you are on the road for longer than most drivers, so you have increased risk of being involved in an accident.
If you don't declare that you work as a courier and take out a standard commercial van policy, your insurer is unlikely to pay out if you have an accident. This could end up costing you a lot more than having the right cover in the first place.
Three levels of courier van insurance cover are available:
Third-party only. The most basic level of cover, protecting you against damage or injury to third-party property, including other vehicles and people. It does not protect your own vehicle.
Third-party, fire and theft. In addition to third-party only cover, you also get cover for fire damage to, or theft of, your own vehicle.
Comprehensive. Offers all the above, plus cover for damage to your own vehicle.
Goods in transit insurance
If you work as a courier, you should have insurance for the items you deliver as well as for the risk you pose to other road users.
Goods in transit cover protects the value of the goods you transport should they be lost, damaged or stolen. Cover is typically available for up to £50,000 per load on any one claim.
This is optional insurance, however many businesses and public bodies will insist on it if you are transporting goods on their behalf. It's easy to see why: without insurance for the goods you are delivering, you are responsible for the costs of damage, loss or theft. Can you afford to cover those costs should that happen?
Arranging goods in transit cover alongside courier van insurance protects you against all the risks you might face while driving on courier business.
Public liability insurance
Couriers are dealing with the public day in, day out. Accidents can happen. If you cause damage or injury to a person or their property, they could claim compensation from you.
Public liability insurance protects you against accidents involving members of the public. You can claim back the costs of legal defence, and your insurer can pay compensation in the event of a successful claim against you.
Public liability insurance can be included as part of your courier insurance package, extending coverage from the risks on the road to the risks that arise when delivering goods to people at their property. It can be included alongside your courier van insurance, or purchased separately with employers' liability insurance.
How much does courier insurance cost?
Courier van insurance costs depend on factors including:
The age and experience of the named driver(s) – insurance premiums are more expensive for under 25s, who are deemed a higher risk
Any claims or convictions on the driver's record
The type and age of the vehicle – faster, more powerful vehicles generally cost more to insure
The level of cover selected – third-party, third-party fire and theft, or comprehensive. Comprehensive is more expensive, but worthwhile to protect you, your vehicles and other road users.
The level of policy excess selected for the vehicle – if you agree to pay a higher excess, the overall cost of insurance goes down
The delivery radius you operate in
Where the vehicle is located and parked overnight – insurance companies need to factor risk based on crime data. Prices can change within a single postcode
Costs can vary greatly, but a courier van policy typically starts at £86.33 per month*.
The cost of goods in transit insurance depends on the level of cover you require. Minimum cover typically costs around £200 a year* – a small price to pay for the level of protection provided.
 *prices include insurance premium tax (IPT) and are correct as of January 2021.
Public liability insurance is sometimes included as part of a courier van policy or can be arranged on a standalone basis. Ask us for a quote to get the best price for all your insurance needs.
How can I reduce the cost of courier insurance?
There are some simple ways to potentially reduce the cost of your insurance:
Maintain a good no-claims record to improve your chances of a cheaper insurance renewal, and avoid motoring convictions.
Choose a van with good security, including an approved alarm and immobiliser.
Select the right level of insurance cover for your vehicle and goods in transit, including a level of excess you can afford.
Install telematics. This can help with ensuring good driving and reporting accidents. It is attractive to insurers who want to reduce the risk of accidents, as well as the time it takes to resolve claims.
If you have multiple vans, courier fleet insurance could work out cheaper than insuring each van separately.
Whatever type of courier insurance you require, ChoiceQuote can find the best deal possible from our panel of insurers. This saves you the hassle of getting quotes from different insurers directly, as well as minimising the cost.
Self-employed vs employed couriers
Self-employed couriers work for themselves, delivering goods for companies and invoicing them for their services. Typically you will be contracted by businesses or local authorities to deliver goods on a regular basis, but not directly employed by them.
Being self-employed gives you the flexibility to work with different companies and take on different contracts. While you won't have the security of guaranteed payments each month, you can potentially earn more. You can also create a better work-life balance by choosing your working hours.
Employed couriers receive a salary directly from a company, usually at the same time each week or month. You could work exclusively for DHL, Hermes, Yodel, or another carrier.
Either way, make sure you have the right courier insurance for your van, its contents, and your liabilities. This will ensure you are not out of pocket or left without work if something goes wrong.
Courier vs haulage insurance
People sometimes get confused about what is 'courier' work and what is 'haulage.'
Courier work involves picking up deliveries and dropping off individual items at multiple locations. This typically involves delivering goods that are ordered on an ad-hoc basis (e.g. parcels of clothing, electronics or books), so the destination of the goods varies each day.
Haulage work involves driving longer distances, usually to regular destinations in larger vehicles (more than 3.5 tonnes gross vehicle weight). Consignments are typically bigger, including refrigerated supplies.
ChoiceQuote covers courier work delivering parcels, packages, letters and newspapers. We mostly cover courier vans, though we can include motorbikes as part of a bigger fleet policy. Haulage can be covered by our sister company, Bollington Insurance. Please talk to us for more details.
Other courier insurance covers to consider
Employers' liability insurance
If you employ any staff, employers' liability insurance is a legal requirement. This is often sold alongside public liability insurance as a package but can be purchased separately. Speak to us about this cover if you employ other people to carry out courier work.
Fleet insurance
Fleet insurance typically covers five or more vehicles on one policy, and is an option for larger courier companies. You can name multiple drivers and vehicles on one policy, keeping your insurance simple and cost-effective.
Our expert team can give you a quote online or over the phone, so you can get on with ensuring parcels are delivered on time for your customers without worrying about insurance.
FAQs
Is courier insurance a legal requirement?
Yes. To carry out courier work, you legally need courier van insurance for your vehicle. It is not a legal requirement to have goods in transit cover or public liability cover, but they are strongly recommended to offer the highest levels of protection for your business.
What can I transport as a courier?
Courier van insurance covers you to drive your vehicle for single pick-up, multiple drop-off of items. This can include parcels, packages, letters, and newspapers. Furniture and takeaway food deliveries are not covered by a courier van insurance policy.
What does 'hire and reward' mean?
Hire and reward means your services are hired to deliver goods in return for payment. Courier van insurance covers your vehicle to carry out hire and reward work, with goods in transit insurance covering the goods you are delivering.
Can I get courier insurance?
Courier insurance is available to any courier carrying out goods deliveries in their vehicle for hire and reward. It is not available for haulage work and is not suitable for other commercial vehicle use, such as furniture removals. See 'What can I transport as a courier?' above for more details.