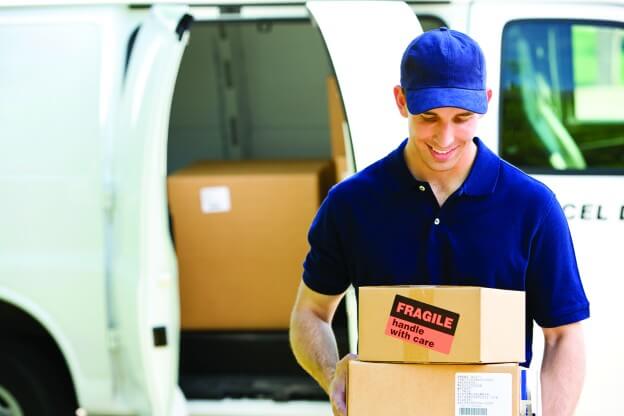 The courier industry continues to grow, providing business opportunities for both individuals and businesses in this thriving sector. With sustained demand for online shopping from consumers, the need for couriers has never been greater.
This is great for those profiting from the sector. However, both courier businesses and self-employed couriers do need to ensure they're completely covered by their insurance policies. Otherwise, they have no protection against the risks of their courier work.
Most drivers know they need insurance, but there's still some confusion around the difference between courier insurance and goods in transit insurance. To clarify, we've explained everything you need to know in this article, including:
What is courier insurance?
Courier insurance protects you against the risks you face when picking up goods and making multiple deliveries for hire and reward.
Often, the term 'courier insurance' is used to refer to cover for your vehicle while you are delivering goods. However, it is not just your vehicle that needs protection while you are on the road: you also need cover for liabilities, and the goods you transport.
What does courier insurance cover?
There are three main types of insurance for couriers:
Courier van insurance protects your vehicle on a third party, third party fire and theft, or comprehensive basis. It is crucial to get a courier van insurance policy if this is your line of work – a standard van policy or commercial van policy will not cover you for the carriage of goods for hire and reward.
Liability insurance comprises cover for public liability (injury to people or their property in the course of your work) and employers' liability (injury to employees or their property while they work for you)
Goods in transit cover protects the goods you pick up and drop off while working as a courier.
How much does courier insurance cost?
A courier van policy typically starts at £86.33 per month (including insurance premium tax), but costs can vary depending on the type of courier vehicle, driver age/history, distances covered and location.
What is goods in transit insurance?
Goods in transit insurance protects the goods you transport as a courier against damage or destruction, loss, theft, delayed delivery, and consequential losses for items not delivered correctly.
What does goods in transit cover?
Whilst a courier van insurance policy protects the driver and the vehicle, goods in transit covers the cargo on board (goods and products).
Additionally, goods in transit cover often comes with £10m of public liability insurance and £5m of employers' liability insurance – handy protection against the risks you and any employees face while delivering goods.
Typical items covered for couriers under a goods in transit policy include parcels, packages, newspapers and letters.
Cover for up to £50,000 per load is available, with individual listed items also covered up to £1,000. The driver's own personal effects can also be covered up to £200.
How much does goods in transit insurance cost?
The cost of goods in transit cover varies depending on the volume of items you transport and the radius you operate in. Typically, cover will cost around £200 per year (including insurance premium tax and public liability and employers' liability cover).
Fleet goods in transit policies are also available. Speak to us for details of your fleet and to get a quote.
What's the difference between courier insurance and goods in transit insurance?
Courier insurance encompasses the different types of insurance you need to carry out work as a courier. The term is often used to refer to courier van insurance.
Goods in transit cover specifically refers to protection for the goods you are transporting.
FAQs
Do I legally need goods in transit insurance?
No – goods in transit insurance is not a legal requirement. However, many companies and authorities will insist you have it before you carry goods for them. Making sure you have the right amount of cover in place is important in case of loss, damage, theft or misplacement of items – you don't want to be held liable for the cost of any of these things happening.
Are any items not covered by goods in transit insurance?
Items that can be covered by a policy include parcels, packages, newspapers, and letters. Individual valuable items can be specified on policies, or cover purchased for all items in transit.
There are items that will be excluded from GIT policies, particularly valuable or dangerous cargo. You will need specific cover for furniture removals, and tools in transit cover is offered separately. Please speak to us to discuss your needs, and we will search our panel of insurers to see if we can offer goods in transit cover for you.
How do I get a quote for goods in transit cover?
Simply call our friendly team on 0800 440 2180 to get a quote for cover, or get a quote online today.