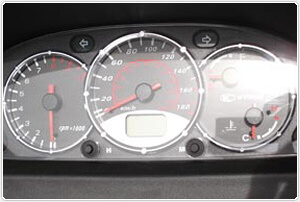 Beyond the normal remit of private motor insurance, motor trade policies are designed to protect you if your business involves you or your staff driving vehicles that belong to you, and if you interact with members of the public.
Motor trade insurance is a specialist form of insurance that will protect you – and your employees – financially against any accidents or other mishaps that might happen out on the road.  This cover for driving vehicles is known as road risks insurance, and is applicable to anybody involved in the motor trade.
In practice, motor trade insurance can be useful for a wide range of different businesses, from mechanics and breakdown firms, to second-hand car or new car dealerships, through to tyre fitters and MOT stations – some of which will only require road risks insurance, and some which will require cover for premises, tools and stock (traders combined insurance).
One of the most important aspects of motor trade insurance can be its flexibility, as it may cover a range of different activities, people and vehicles. If you wanted to cover a garage, for example, you would need to be able to cover any employee – even a brand new recruit – when they drive a customer's vehicle.  Not only do they need road risks insurance, you would also need employers' liability insurance to make sure they are covered for any eventuality.
Such policies can even extend to protect you and your business against any accidental damage or similar problems that arise from, for example, the work that your mechanics carried out on a customer's vehicle.
Motor trade insurance may even be needed if your employees do not actually get behind the wheel of a client's car – running a vintage vehicle restoration service, or a repossession company, for company.
It is also important to note that the requirement to be covered does not end with limited companies: if you are self-employed but often take on responsibility for others' vehicles, it's vital to have the right policy. In some very select circumstances, a customer's coverage may extend to other drivers, though this is usually on a third-party and not a comprehensive basis.
What needs to be considered?
Beyond the initial question of "do I need it?" there are some important considerations to be made when assessing your need for a motor trade policy.
First off, it is important to point out that motor trade policies are only appropriate for full or part-time motor traders, rather than individual drivers. They are not designed to allow those not working in the trade to drive any vehicle they like – this is very likely to mean they are not covered in the event of an accident or other mishap!
At the bare minimum, you need a road risks policy that offers third party-only cover, which is required by law if your business involves the driving of vehicles, whether they belong to the company or to its customers, on a public highway. This covers damage, loss or injury to third parties – in other words, other vehicles, other road users and even your passengers – but does not cover your own vehicle or yourself.
Beyond this, third party fire and theft will add to the above damage caused to vehicles sustained when under your business' control, as well as losses incurred through theft, fire or loss.
Finally, comprehensive cover will extend all the aforementioned levels to include accidental damage to any vehicles you own or that your business has temporary custody over. Crucially, this will cover any damage or losses incurred to one of your customers' cars while you – or your staff – are driving it and are involved in an accident.
Tailoring your policy
As the types of business motor trade insurance can cover will vary largely, there are many ways that insurance providers will tailor their policies to make sure clients are covered fully and efficiently.
Here are some more considerations for your policy to make sure it suits your business:
Vehicle Exclusions – Certain types of vehicle are likely to be excluded from some policies. For example, these can include certain high-performance cars or motorbikes. Each insurer will have a comprehensive list of any makes and models not specifically covered on request. Make sure you have the correct cover for your needs, especially if you are a younger or more inexperienced driver.
Trading from premises – Any loss or damage incurred to vehicles kept at business premises may not be covered without traders combined insurance.
Vehicle values – In general, any claims pay-outs made will be made at the trade value of the vehicles involved. If you deal in new vehicles, for example, you may require more specialist coverage.
Additional occupations – If your motor trade is only a part-time pursuit, your policy will more than likely not cover you for your main occupation if that also involves driving. Extensions are available to cover this additional use.
Extras – Many motor trade policies lack the perks of personal insurance policies – e.g. breakdown cover.  it may be possible to add certain covers at additional cost.
Next steps
To get a policy that is tailored to your business and requirements, the best first step to take is always to secure the services of a specialist broker. As the product is so flexible – yet so niche in its application – it's preferable to get expert advice from a company that knows what it is doing.
Otherwise there is a danger that you will end up with cover that is not fit to purpose, or a policy that you will only discover is insufficient when something goes wrong.
Speaking to a broker who has years of experience handling these policies and helping businesses like yours can save you time and money, not only in the short-term but further down the line too.
Get in touch with the friendly team at ChoiceQuote today for expert advice on your motor trade policy needs.