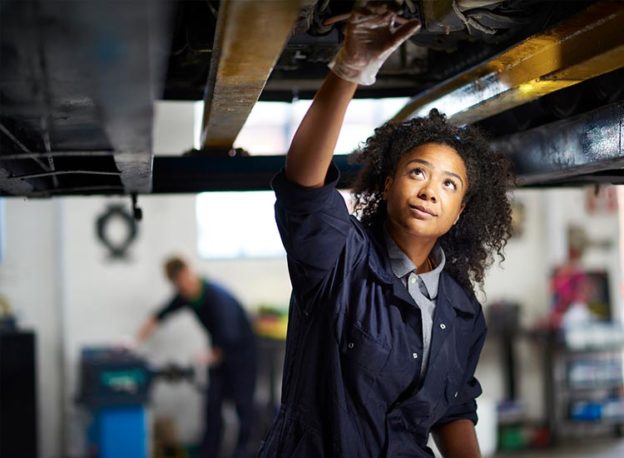 As a motor trader, you need traders insurance – it's a legal obligation. The world of traders' insurance can be confusing, especially if you're new to the motor industry.
This guide to motor trade insurance covers some of the key questions, including:
Key facts – what you need to know about motor trade insurance
Motor trade insurance is split into two main levels of cover, road risk and combined. Which one you'll need depends on the type of business you have and the services you provide to customers.
Road risk vs combined
Road Risk only cover suits traders that have a home-based business, such as car sales, or operate on the move such as mobile mechanics. A traders' combined policy is designed to cover several other items including equipment, tools, money, buildings and contents, if required. Combined cover is ideal for larger motor trade companies, that work in a business premises/garage and employ a number of staff.
The cheapest quote isn't always the best
When looking for insurance, it is likely your first instinct will be to look for the cheapest quote available. However, it is important that your policy covers each aspect of your business operation to ensure it is sufficiently protected, should you need to make a claim. Sometimes, it is best to pay a little bit extra for your motor trade insurance. The added protection over the duration of your policy might save you more money in the long-term.
Additional insurance/protection
You might want to consider additional insurance covers when taking out motor trade insurance. The benefit of these is that they can protect other areas of your business, for example:
Cover for valuable tools and equipment
Premises insurance
Cover for lost earnings (due to accident or illness)
Part-time traders, can even get vehicle cover for their other businesses. Traders such as builders, plumbers and electricians, can often receive this added protection.
Business Interruption and Employer Liability cover
It's worth asking a motor trade insurance broker about the extra cover you might need as part of your policy to ensure you don't fall short.
Who needs trade insurance?
The law requires you to have a motor trade insurance policy if you buy or sell vehicles, drive customers' vehicles, or take responsibility for them as part of your work.
Motor trade insurance covers anybody working in the trade, from part-time mechanics to car dealerships, service and repair garages through to body shops, MOT stations and recovery operators.
How much does motor trade insurance cost?
When buying motor trade insurance, affordable trade insurance that doesn't break the bank is at the forefront of most business owners' minds.
The price of a policy depends on a variety of circumstances – there is no one-price-suits-all or average cost approach. One of the main factors impacting the price of a policy is the level of cover your business needs to adequately cover its motor trade operation. It is vital that your motor trade insurance policy includes all of the necessary covers to ensure you're fully protected in the event of a claim. Don't make the mistake of underinsuring to save a few pounds – it will cost your motor trade business further down the line.
There are several other factors that will affect the price of a traders policy, including:
The Insurer
Costs can vary between the insurers that offer you a policy. For example, one insurer may offer competitive car traders' policies suitable for those with additional drivers, while others may offer competitive premiums for those with driving convictions or accident history.
If you're looking to compare motor trade insurance, it's worthwhile speaking to an expert broker, as they will be able to use their panel of trusted insurers to compare motor trade insurance and find you the best deal. By speaking to a specialist broker like Choicequote, we can offer advice on the most suitable insurer and policy to meet your needs.
No Claims Bonus (NCB)
Motor trade No Claims Bonus works in a similar way to private car insurance. Every year that a driver has insurance without making a claim, they will earn another year's bonus. Insurers use NCB as an indication of how likely you are to make a claim, and price the policy accordingly. As a general rule of thumb, the more years you have on your no claims bonus, the higher the discount to your traders' policy premium.
Most insurers look at a maximum of five years, although there are some insurers that may offer further discounts beyond this limit.
It is possible to protect your NCB on a motor trade policy. This will cost slightly more but allows you to protect the number of years NCB that you have earned, in the event of an accident, and stop the risk of a hike in insurance premium the next year.
Location of business
This will be unsurprising for many, but the location of your business can have a major impact on the cost of a policy.
Consider your location carefully if you are selecting a base for your motor trade business for the first time. You may want to consider crime rates in the area – in addition to its general reputation – before selecting premises, as these factors will be considered by the insurer when offering you a policy. Ask yourself – would you rather be in a busy city centre or in a rural location? Both have their own risks attached – rural locations are more susceptible to thefts, whereas city centre locations tend to have a higher rate of accidents due to the amount of congestion.
Is your motor trade business located in a potential flood area? This could significantly reduce the number of insurers prepared to insure your business due to the risk of flood.
It's good business sense to weigh-up the increased costs of insurance against the potential loss of trade if based too far away from highly populated areas.
The size of your motor trade business
There are multiple factors insurers will consider when assessing the size of your business, such as:
The number of employees on your payroll
The number of vehicles owned or in your possession at any one time
The value of any tools, equipment, and money you may have
The building you operate from, whether you are home-based or work from a business premises
These are just some of the size factors that could prove to increase, or indeed reduce, the cost of motor trade insurance. As your business grows, you will find that the risks you are exposed to increase and will need to be reflected in the covers you require.
However, it is important to be honest and upfront about the scale of your operation. If an accident or incident occurs, the cost will be significantly more if you don't have the right cover in place to protect the true size of your motor trade business.
Your motor trade activity
Specific activities within the motor trade can affect your premium. Reduced rates are available for those involved with repair trades such as servicing, MOT preparation and body work. Whereas other activities such as breakdown recovery or vehicle salvage and dismantling are deemed more hazardous and can increase your premium. Specialising in performance or prestige vehicles will also bump up your premium.
To allow members of the public to test drive your vehicles, you'll need demonstration cover. There are different types of demonstration cover available, which vary in price. In a Covid-secure business, you might need unaccompanied demonstration cover, which allows prospective customers to drive without a member of staff present.
It's important to disclose all of your motor trade activities to your insurer, to ensure you receive the correct cover. Don't hide anything just to keep your premium low – this could prove costly if a claim is reported.
Restrict drivers
Having additional drivers on your motor trade insurance policy can be expensive, depending on their driving history. Try to keep drivers on your motor trade policy restricted to as few people as possible. It may be convenient to have casual drivers included to help move cars around, but they may add several hundred pounds to your annual premium – it might be cheaper to buy a trailer and transport them yourself in the long term.
Voluntary excess
Similar to a private car insurance policy, opting for additional excess on your policy can save you money off your motor traders insurance. However, it can be costly if you need to make a claim. Most motor trade insurance policies have a compulsory excess of £250, but this can be increased with an optional excess for a saving on your premium.
For more advice on reducing the cost of your insurance premium, read our blog 20 tips to save money on your motor trade insurance.
Adding your vehicles to the MID
When buying and selling vehicles in the motor trade, you need to update the Motor Insurance Database (MID).
All vehicles insured by your motor trade insurance policy, including any vehicles used for social, domestic and pleasure purposes need to be added to the MID. Furthermore, any trade plates used when transporting vehicles or accompanying drivers on vehicle demonstrations will also need to be registered on the MID.
If you have any vehicles or plates that are not on the MID, you run the risk of being stopped by the police and receiving a fine, or worse still, having your vehicle impounded.
---
A good understanding of motor trade insurance and the covers included is important whether you are new to the trade or are already experienced within it. At ChoiceQuote, we are a specialist motor trade broker and can give you peace of mind that your motor trade policy covers everything you need, at the best possible price. Contact our team today to find out more, or to get started.