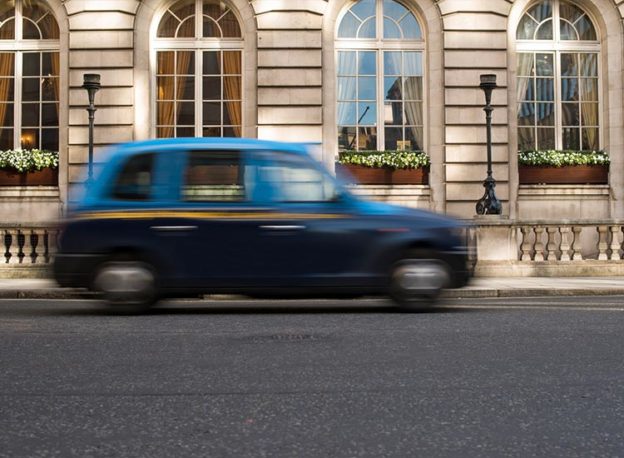 Driving a taxi can be a great way to make a living. You can pick hours to suit your lifestyle, meet people from all walks of life, and earn a good wage.
While taxi drivers have certainly been affected by the coronavirus pandemic, 2021 could be a great time to become a taxi driver again. As lockdown restrictions ease and millions of vaccinated people return to social settings, taxi drivers will be back in demand.
This guide summarises the benefits of becoming a taxi driver, along with the things you need to consider.
Do you want to be self-employed or employed by a taxi firm? How do you get a cab licence? What taxi insurance do you need? We'll answer all of these questions, to give you all you need to know to become a taxi driver.
Guide contents:
Taxi driver definitions – private hire v public hire
 There are two types of taxi licence (or badge) available:
Private hire (PCO or PHV) – Holding a private hire badge means you can only pick up pre-booked appointments, such as fares through taxi firms, minicabs, and apps like Uber. It also allows self-employed drivers to provide airport runs or hold contracts with businesses.
Public hire (Hackney carriages, black cabs) – Public hire taxi cabs are typically hailed by passengers on the street. They cannot be pre-booked. These cabs display a 'Taxi' sign on the roof; when lit, the cab is available for hire. The most obvious examples are London hackney carriages (the iconic black cab). There are also public hire saloons and MPVs found in towns and cities across the UK.
Before becoming a taxi driver, you need to decide whether to apply for a private hire or public hire licence. The badge you choose will depend on what works best for you. On the one hand, pre-booked business from regular customers allows you to set fares and pick up passengers at bases (e.g., railway stations, airports, city centre laybys in shopping areas or tourist attractions). At the same time, public hire licenses can offer higher fares but less guarantee of work.
Realistically, it won't be cost-effective to hold more than one type of licence, so make sure you know which badge is best for your circumstances before applying.
Benefits of being a taxi driver
Choose working hours to suit your lifestyle
 Taxi drivers work around the clock. Whenever there is a need for transport, you can work. It's up to you whether that means longer days and extended weekends, or driving in the morning to free up your evenings. Likewise, you might choose to work all weekend and relax during the week — it's entirely up to you. Some cabbies opt to work at night, so they can get other family-orientated commitments done in the day.
Taxi drivers are always in demand
Situations that may require your taxi services include:
Taking people to work.
Driving passengers to see family or friends.
Dropping off and picking up passengers on a night out.
Taking elderly passengers shopping.
Picking up holidaymakers from the airport.
In fact, anyone who needs transport could consider using your taxi services.
People from all walks of life can drive taxis
 If you enjoy driving and meeting people, there's no better profession to choose. Taxi driving is an inclusive career path, usually open to people aged 21+ from all backgrounds. The only requirement is that you qualify for a taxi licence. For more information on applying to be a taxi driver, see below.
Self-employed or employed by a firm
 You can choose between self-employment – taking fares in locations and at times to suit you – or having jobs allocated from a private hire taxi base.
Most drivers are self-employed, meaning you get paid directly for every journey you make. If you work for a private hire firm, you are usually paid an hourly rate, the advantage being that you don't have the administrative headache of paying business taxes, insurance etc. What's more, all your jobs are pre-planned.
 Bring in extra income
Taxi drivers can work on a part-time basis to supplement their primary income. Again, this is easier to do when working for a private hire firm, purely because the administrative costs of working part-time can be high. Nonetheless, it is another way for taxi drivers to benefit from flexibility in their role.
How to become a taxi driver
 To become a taxi driver, you will need: 
A taxi licence (aka a taxi badge).
A vehicle – owned, leased or made available through a taxi firm.
Taxi insurance.
Taxi driver qualifications
There are some basic requirements for becoming a taxi driver before you apply for a licence, including:
Eligibility to live and work in the UK.
A full driving licence held for a minimum of 12 months (or three years in London).
In some cases, local authorities may require a background and criminal record check via the DBS.
You don't need a formal qualification to apply for a taxi licence. However, some drivers find it easier to get their taxi badge by doing a college course first. Such qualifications include:
Level 2 Certificate in Road Passenger Vehicle Driving – Taxi and Private Hire.
Level 2 Certificate in Introduction to the Role of the Professional Taxi and Private Hire Driver.
Entry to these courses usually requires 2 GCSEs at grade A*-D (or 9 to 3 under the current system).
If you meet the above criteria, the next step is to apply for your taxi licence.
How to get a taxi licence
 Local authorities have different criteria for obtaining public and PCO/PHV taxi licences. If you plan to operate outside Greater London, we recommend finding your local council here and contacting them to see what the process is in your area.
Outside of London, the process may involve:
A medical check to assess your fitness to drive professionally.
A 'knowledge' or theory test – a selection of Q&As, which may include routes, safeguarding, or specific local knowledge.
A driving test to assess how you fare behind the wheel and with passengers.
A DBS background check.
Most councils also have some form of language check that tests your English skills.
If you operate inside Greater London, Transport for London (TfL) are responsible for issuing licences.
The process for obtaining a licence is a bit more intensive, especially for public hire drivers. Hackney carriage taxi drivers must pass the world-famous 'Knowledge' test. All the information you need for this – including the process, checks, and costs involved – is on the TfL website. This link explains how to apply for a public hire taxi licence in London.
There is a separate process to apply for a private hire taxi licence in London. Again, the TfL website talks you through what you need, including character assessments and medical requirements. There's also information about the congestion charge and ultra-low emission zone charge.
How much does a taxi licence cost?
The average cost of a taxi licence outside London is approximately £430 – but you should check up-to-date prices with your local authority.
According to TfL, current costs for a public hire licence as of April 2021 are:
DBS disclosure application
£52 (online)
£54 (paper)
Licence application fee (non-refundable)
£120
Grant of licence fee
£180
Knowledge of London written examination
(All London only)
£200
Knowledge of London appearance
(One-off payment)
£400
DSA Hackney Carriage driving test (payment to DSA)
£92.94 (normal hours)
£112.34 (evenings and Saturdays)
£50 (wheelchair test only)
Post Office® Check and Send
£7.15
Medical assessment
(Payable to your GP who can advise you of the cost)
£80 (approximately)
This brings the total cost of applying for a public hire licence in London to over £1,100. Therefore, you should make sure you are committed to succeeding before you start your application!
Costs for a private hire licence in London total £644, excluding the cost of your medical.
As of April 2021, these include the following costs:
DBS disclosure application
£52 (online)
£54 (paper)
*Licence application fee
£124
Grant of licence fee
£186
Post Office® Check and Send
£10.50
English language assessment (if applicable)
£180 – £200
Topographical assessment (if applicable)
£75
Medical
Fee set by the examining doctor (your GP)
Example total: £644 excluding cost of medical
Whether you're working inside or outside of London, you will be required to pay for any medical assessments, DBS checks, and examinations. Therefore, we recommend factoring these additional costs into your decision before deciding between the licences available.
Vehicle licences typically need to be renewed annually, though your taxi licence remains valid for three years.
Becoming an Uber driver
Uber drivers work as private hire taxis (your services can only be booked), so you must apply for a private hire licence from a local council. Once you have your licence, you can sign up to Uber or a similar app-based service. It's simply a case of logging your private hire taxi licence and vehicle details.
In addition to private hire licence costs, there are 'service fees' charged by Uber and other app providers for using their platform. These are in the region of 20-25% per journey.
What does it take to be a successful taxi driver? 
A good vehicle. Economical cars that are well built and durable are a must for most taxi drivers. Electric cars could be suitable for cities, but not for long journeys. You also need to make sure there's enough space for passengers and their luggage. Read our guide on the best electric cars for taxi drivers.
Good communication skills. It's important to understand where passengers are going and to convey information clearly. For this reason, English language tests are in place with many local authorities and TfL. Talking to people and building rapport is also a fun part of the job!
Stay calm under pressure. Roads can be busy, and people are sometimes impatient. Focus on your driving and avoid distractions.
Drive safely. Keep to the speed limits and refresh your local knowledge regularly. Knowing the roads like the back of your hand will result in safer, more efficient journeys that offer better customer experiences. Adverse weather conditions can increase the chances of having an accident, so read our guide for driving your taxi safely in winter.
Taxi insurance
Being a taxi driver can be a rewarding career, but it's not without risk. Spending many hours on the road means a higher-than-average risk of being involved in an accident or incident.
That is why getting the right taxi insurance is critical.
At ChoiceQuote, we've been insuring taxi drivers since 1995. We have access to a wide range of public hire and private hire taxi insurance policies, covering every type of driver. We'll find the right cover for you, your passengers, and your vehicle.
Whether it's taxi cover or public liability insurance (to cover the costs of defending injury claims from passengers and members of the public), we've got policies right up your street.
Get in touch with our taxi team on 01625 854158 or start your quote journey below.
FAQs
How long does it take to become a taxi driver?
The time it takes to become a taxi driver depends on your local authority and their requirements. For instance, it typically takes between 12-16 weeks to obtain a licence, but London's 'the Knowledge' can take years! Make sure you factor in enough time to qualify and to resit any tests.
Do I need to own a car to be a taxi driver?
Self-employed taxi drivers usually need to own a vehicle, so you'll find a range of buying and leasing options available online. Alternatively, if you work for a private hire firm, they may have a fleet of vehicles available to use. Check with your local operators if this is an option.
Do I legally need a taxi licence?
Yes, you need either a private hire licence or a public hire licence to drive a taxi. Remember, it's not possible for people holding a private hire licence to pick up passengers from the street or drivers with a public hire licence to accept a booking.
Do I legally need taxi insurance?
Yes, you can't drive a taxi without taxi insurance in place.
How much can I earn as a taxi driver?
According to the National Careers Service, experienced taxi drivers can earn £30,000 a year, with those starting out earning around £14,000 for a typical 41-43 hours work a week. Uber 'chauffeur' drivers can earn up to £565 per week, but Indeed reports that most Uber taxi drivers earn around £23,460 a year.