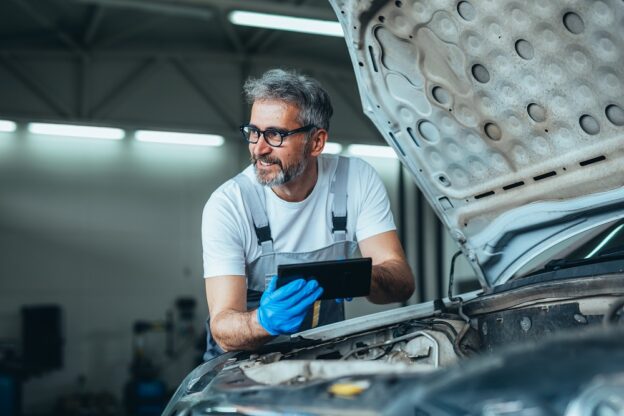 Do you enjoy the challenge of fixing and repairing vehicles? Are you good enough to make money and set up a garage business?
Running a garage business and becoming a motor trader requires specialist knowledge. You will need help making the right decisions to get your business going, learning as much as possible before making a success in the motor trade.
Our helpful guide explains the basics:
Armed with this information, you'll be ready to start a garage business and earn money straight away.
What type of garage can I run?
There are plenty of options for motor traders looking to run a garage:
As the name suggests, this type of garage services vehicles and makes repairs. You'll need good mechanical knowledge and the right diagnostic tools, including lifting tables, ramps, etc.
Body shops specialise in repairing cars involved in accidents or those that have suffered minor damage. You will replace body parts, restore paintwork, beat panels back into shape, and make vehicles roadworthy. You'll need specialist equipment, including paint spraying booths, ovens, lifting tables, etc.
You will need to be a qualified MOT tester, or employ one, to operate an MOT station. You must have the relevant diagnostic tools for a full range of vehicles, along with additional equipment if you choose to do services and repairs.
This work involves restoring older cars to their former glory. You will love breathing life into old cars, making them look and drive as the day they first left the showroom. Classic car restoration requires sourcing or making parts, a keen eye for detail, and specialist tools.
There is nothing to stop you from carrying out more than one type of work (MOTs paired with service and repair, for example). The important thing is to be good at what you choose to do. If you gain a solid reputation, new business should start to flow to your new garage.
What if I have no experience of running a garage?
If the dream is to run a garage, but you're unsure where to start, consider taking a Level 2 Diploma in Light Vehicle Maintenance and Repair. And if you want to go one further, follow it up with a Level 3 Diploma in Vehicle Technology. These college qualifications show garage owners that you are trusted to carry out work.
Most people start out working in a garage as an apprentice or mobile mechanic. This period allows you to gain experience and trust in your work.
Alternatively, you might be a petrolhead that longs to work with vehicles full-time, but you have so far worked in other businesses unrelated to the motor trade. Rest assured that you can transfer any business acumen to your new garage.
Location – where should you open a garage?
Choosing the correct garage location is crucial. You could have the best garage in the world, but if nobody knows where you are, you won't do any business! As such, you should balance the demand for your garage services against the presence of competitors. Likewise, setting up an MOT station in a town with hundreds of others to choose from will make life difficult.
Things to consider when picking the location for your garage include:
Is it easy for you to get to and from your new place of work?
Is it accessible to customers?
Is your garage unique? For example, could you be the only body shop garage in town, or a specialist in servicing Volkswagen and Audi cars?
Will you get passing trade, or are you located off the beaten track?
Is there sufficient parking, storage space, and a customer waiting area?
Is there a payment counter, office area, toilets, and a kitchen?
If you are buying or leasing an existing garage, will they pass their book of customers to you?
Will tools, equipment, ramps etc. be included in any sale or lease agreement?
How much will it cost for business rates, electricity, and disposal of waste where your garage is?
All these factors are essential when deciding where to set up a business. Think about them all, and weigh up the costs against the potential profits to be made.
Licences needed for your garage
You don't need a licence to operate a garage, but you may need qualifications or permissions for the following:
MOT testing – To become a certified MOT tester, you need a Level 2 MOT Testing Award in
Class 1 and 2 vehicles (group A) or
Class 4 and 7 vehicles (group B)
Information regarding MOT tester qualification courses is available on the official government website.
You need to be a certified tester to issue MOT certificates. If you don't have this qualification, you will need to employ an accredited tester to carry out tests on your behalf.
Waste disposal includes engine oils, tyres, precious metals in catalytic converters, and old car parts. You should ensure that any contractor used to dispose of waste is legally compliant and abides by environmental rules. Waste carriers should carry a certificate of registration from the Environment Agency.
Trade licence plates – Should you need to test vehicles on the road or have any sales involvement, you may need trade licence plates. You can apply for these through the UK website.
Business planning and setup costs
Before you open a garage, have some realistic targets in mind.
You will need to earn enough money to pay for:
The rent or ownership of the garage premises
Wages for any staff
The cost of any tools or equipment needed
Vehicle parts required
Business taxes
Accountancy
Consider how much money you will need to pay your household bills and live comfortably. This should give you a good idea of how much to charge for your services, and how many customers you need to attract.
Once you know this, you can regularly check your progress to see if you are meeting targets (e.g., making £5,000 worth of profit each month). You can adjust your plans to bring in more staff if needed, reduce expenditure, etc.
The GOV.UK website offers advice and links to business plan templates.
Once you have a business plan and are ready to go, you can look at employing staff, getting the right suppliers on board, and marketing your business.
Employees
Think about what staff you need to run a garage. You won't be able to repair cars while simultaneously booking in customers, for example. So, perhaps consider a receptionist or office worker. They can also work with suppliers, take payments from customers, and carry out administrative tasks.
Other roles you may consider:
Mechanics
Apprentices/trainees
MOT testers
Specialist workers such as auto electricians, body detailers etc.
The larger the garage or the bigger your plans, the more employees you might need to take on. Ensure you're up to speed with the latest HMRC rules regarding wages if you take on staff, making sure taxes and NI are paid.
Suppliers
There are many items and parts you will need to maintain vehicles, from tyres to suspension joints, paint to engine oils. So, having a range of suppliers is a good idea.
You can source parts from:
National companies, such as Bosch
Direct from manufacturers, e.g. Ford
Local motor factors
Third-party suppliers through Amazon, eBay etc.
Other garages
Having experience in the trade will help you decide which suppliers are most reliable, offer the best quality parts, and the most value for money.
Make sure that you keep tabs on invoices and pay suppliers on time, to maintain good relationships.
Marketing your business
Getting your garage up and running involves making sure people are aware that you are available.
Luckily, it has never been easier to promote your business.
Get in touch with existing customers. If you already have customers – as a mobile mechanic, or if you are leasing a garage, for example – then contact them to let them know about your new garage. Just make sure you have their consent to do so!
Create a website and set up an email address for enquiries. You can do this for free through providers such as Wix. As a minimum, show people where you are, the services you offer, and how they can get in touch.
Create a Google My Business account. This will verify your business and appear in local searches. Claim your Google account here.
Set up a Facebook Business page. In doing so, you'll get your name out to the local area. Everything you need to set up a Facebook Business Page for your garage is here.
Claim your free TrustPilot account. It pays to have control over the reviews people leave for you so that you can respond to feedback – good or bad. You don't have to pay for an account either, claim a free Trustpilot business account
Ask previous customers for reviews. If you have already done work for friends, family members, or previous customers, get them to review your garage across your Facebook, Google and Trustpilot accounts. Ask people you know have received good service from you.
Advertise in local magazines. It's cheap and offers a wide circulation in the community you serve.
Offer incentives to customers to refer business to you. If you offer money off a customer's next service if they recommend a friend, it could help you establish a new customer base.
You never know when a customer might need you, so word of mouth is always the best recommendation. Do a good job, offer good customer service, and you will likely find that business comes to you regularly.
Insuring your service and repair garage
You can't operate a repair or MOT garage without motor trade insurance. You will need an insurance policy that covers:
Road risks – driving customer vehicles and those owned for motor trade use.
Business premises – your garage buildings.
Tools and equipment – for everything from service ramps to power tools.
Employees – employers' liability insurance is a legal requirement and protects your business against claims of any alleged injury.
Members of the public (public liability) – not a legal requirement, but highly recommended if your garage allows any members of the public on-site. It offers the same protection against claims as employers' liability cover.
Money stored on site.
Stock – including vehicles or other stock items kept on-site.
These — and many other motor trade covers — are available through ChoiceQuote.
FAQs
How much money do garage owners make?
Your salary could vary greatly, depending on:
The work your garage does
Where it is located
The number of customers you have
The hours you work
The overheads on your garage
Costs of employing staff
Insurance and finance costs
You can expect to earn anything upwards of £23k per annum for a well-run start-up garage business, with the potential to make much more as your reputation grows. Like any other self-employed venture, there are no guarantees of success or income.
Do mechanics/repair garages need a licence?
There is no legal requirement to obtain a licence to run a garage. That said, gaining qualifications will give you additional confidence to do a good job and enhance your reputation.
Remember that certain occupations in the service and repair industry – for example, MOT testing – will require you to hold a formal qualification. You can't operate without an MOT testing licence.