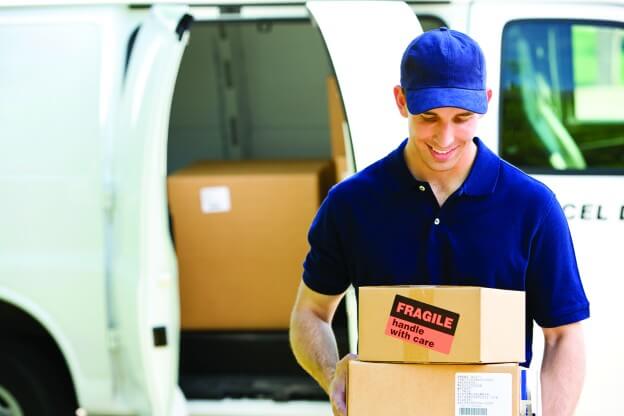 Many sectors in the UK grapple with a lack of skilled workers today, including the road transport sector, which has been hit hard by a dwindling workforce. Read on to find out more and discover why effective courier insurance and goods in transit cover is essential for your business.
The road transport and haulage business is one of Britain's oldest and most enduring trades, but in recent years it has been faced with a lack of drivers, threatening its once stable foundations. This ongoing driver shortage is one of the most significant challenges facing the road transport sector, and something that may have wider reaching impacts than UK logistics operations alone.
According to a report by the Department for Transport published in 2017, 76 per cent of goods moved last year were transported by road. Britain's transport sector is vital to many – if not all – UK businesses, and couriers sit at the heart of it. The industry currently suffers from a shortage of qualified and experienced drivers to operate the thousands of transport jobs that need completing each day.
As more e-commerce businesses move online, and large online retailers increase their market share, the pressure on courier services to deliver packages on time and at low cost has only compounded the problem. So why are we as a country struggling to find more couriers to meet demand?
What is causing the courier shortage?
"The cost of licence acquisition; lack of understanding of the sector; poor sector image; working hours; and, lack of quality driver facilities." – Freight Transport Association
The shortage of couriers can in part be attributed to the start-up costs for prospective drivers attaining the appropriate licence, particuarly when it comes to driving larger vehicles. While large haulage companies are more likely to pay the cost for their employees, individual working drivers, especially those new to the game, may find this too much of a burden.
According to the Freight Transport Association, there are several reasons why young drivers aren't attracted by logistics and HGV driving as a career option, including "the cost of licence acquisition; lack of understanding of the sector; poor sector image; working hours; and, lack of quality driver facilities".
Others have attributed the decline to a generational shift in career expectations, where long working hours for basic salaries are less desirable than steady office jobs that offer financial incentives and greater stability.
Some say Brexit and the impact this will have on European migratory workers has been the final straw in leaving the road transport sector short-staffed. As living in the UK becomes less attractive for overseas workers, more and more gaps emerge across many sectors that have relied on a consistent flow of migrant workers in the past.
According to the Office for National Statistics' Quarterly Report on migration statistics, released in February 2018, the number of EU citizens leaving the UK has reached its highest point since 2008. Moreover, the number of EU citizens coming to the UK has also fallen by tens of thousands. This restricted access to skilled workers is something that could well continue to put a strain on UK industries, including the road transport sector.
The impact
"The ongoing driver shortage is by far the most significant challenge facing the road transport sector in 2018." – Paragon annual UK survey, 2018
With fewer new drivers joining the industry and more demand placed on the experienced drivers who are on the roads, the transport and haulage sector is at risk of becoming increasingly overworked. This could mean higher operational costs for businesses, as working drivers and transport companies charge more for their services.
It may also mean that undue pressure is transferred to experienced drivers who are left having to handle an unreasonably high workload when recruitment initiatives fail, which potentially results in slower delivery times that don't meet customer expectations.
On top of all this, there is the risk that all this pressure could lead to road accidents, as drivers struggle to keep to tight delivery slots. For businesses and individuals who are not covered with the right courier insurance or goods in transit insurance, there may be significant consequences for such an unfortunate eventuality.
Eventually, a significantly reduced workforce beyond the current levels could even make certain businesses unviable.
For companies that rely on the transport of goods for operational functionality, it's more important than ever to acquire comprehensive courier insurance cover to protect against any potential consequences that may arise from further strain on a dwindling logistics workforce.
Courier insurance will protect your vehicle, but you should also consider goods in transit cover. Many companies now insist that their couriers take out adequate goods in transit insurance to cover any potential damage to stock, or the loss of items in the event of misdelivery or theft.
To find out more about goods in transit insurance, contact ChoiceQuote today on 0800 440 2180 or get a goods in transit quote online.
The solution
"More education and training initiatives are needed – including improved engagement, more apprenticeship schemes, and better-defined career paths." – Paragon annual UK survey, 2018
The survey by Paragon found that over a third of people surveyed felt "more education and training initiatives are needed – including improved engagement, more apprenticeship schemes, and better-defined career paths". A quarter believed improvements to pay and overall working conditions could be the solution.
It seems the government has largely left the transport industry to its own devices to solve the current skills shortages, which has proven to be an ineffective strategy and one that can't go on forever. More incentives are needed to encourage a new wave of drivers to join today's ranks of courier drivers, to support the UK's vital industries and our overall economy as we enter a post-Brexit era.
The opportunity
Courier drivers and companies could potentially make big gains in the current environment. Fewer drivers means less competition, which in the medium- to long-term could mean more jobs available for individuals as companies like Amazon continue to expand, unabated. While the prospect of automated vehicles and deliveries is always on the horizon, it will be many years before companies place their trust in this technology to literally deliver the goods.
Customer expectations may shift to having to pay a little more for reliable delivery services, in order to entice courier drivers back behind the wheel with higher wages. Demand for delivery drivers will only continue to rise for the foreseeable future, so more workers will be necessary to keep the supply chain of goods rolling.
Consumers are only likely to become more demanding, so won't be happy if there are delays on their items arriving with them. In the modern world, everything is demanded at greater speed. With this backdrop of overall driver shortages and continually increasing customer demand, there will most likely be steady and reliable work available for those who are considering setting up a new courier business, or expanding their existing operations.
Make sure you're covered
"It is incredibly important to ensure you're covered by the most comprehensive courier insurance you can afford."
With these external factors at play, it is incredibly important to ensure your business is covered by the most comprehensive courier insurance you can afford. From cost-effective goods in transit cover, right the way through to courier fleet insurance, speak to ChoiceQuote about the best value courier insurance for you or get a courier insurance quote online.
Top Tip:
Many individual couriers and courier companies think they're covered but are you really sure?
If you've chosen normal car insurance with business cover rather than specific courier van insurance or courier car insurance, you might not actually be covered for your courier work!
Make sure you've got the insurance you need to do your job.
To learn more about the best courier insurance options for your business, call ChoiceQuote on 0800 440 2180