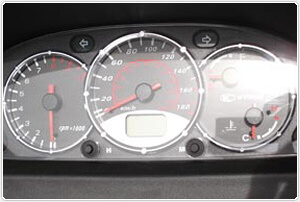 Why do I need motor trade insurance? This question has crossed the lips of many people who deal with vehicles as part of their work, but how many people actually need it?
In this week's blog, we will examine the various kinds of trader who can benefit from motor trade insurance, look at the limits on the kinds of trades or vehicles covered, and find out how the right policy could save you time and money.
Is it right for me?
Whether you are a full time or part time motor trader, whether a brand new business or one that has been running for years, if you are operating a business in any part of the wider motor trade then you will need a policy that covers you, your tools, your stock and a whole range of crucial things that make up your business.
There are broadly three categories of motor trader who can be covered by motor trade insurance: those buying and selling vehicles, those driving customers' or their own vehicles, and those firms that service vehicles. Though there is obviously overlap between these categories, each has slightly different requirements when it comes to their insurance policy.
A typical motor trader involved in buying and selling vehicles could include:
Full and part-time motor traders
New or used car dealerships
Specialist car sellers or importers
Vehicle treatment facilities
Vehicle recovery agents
Generally, such traders will need to cover their stock as a priority, and will require a secure location in which to keep vehicles overnight or outside of business hours. Vehicles are usually insured for their trade, rather than retail, values. Though they may not take many of their own or customers' cars out on the road often, employees might need coverage for test drives or moving cars around the lot.
Other motor trades might be involved in driving cars, whether those that belong to the company or to customers. These can include:
Car valeters
Breakdown recovery services
Collection and delivery firms
Such traders may be more likely to need enhanced cover out on the road in form of public and employers' liability, which can pay out if a mistake made by you or your employees causes injury to a member of the public or their property, or if there is an injury or illness related to the work of one of your employees. In terms of road risk insurance, in addition to third party cover, you can also add third party, fire and theft or fully comprehensive cover to your policy.
The last category encompasses those that service vehicles and is far-ranging. Examples include:
MOT garages
Servicing garages
Body shops or vehicle modifications
Mechanics
Tyre or exhaust fitters
Specialist servicers for HGVs, taxis, etc
As with the first category, these traders will have both premises and stock of parts to cover, so may need to extend their coverage here. Tools and equipment can also be covered, particularly if you need them to carry out your work, from loss, theft and damage. Employers' liability insurance can be crucial for any workplace accidents, too.
Those not partaking in the roles or professions described above should look elsewhere for cover of their main activities. There are limits to the sorts of vehicles and drivers covered by these policies – more exotic cars, for example, or companies that deal only in heavy, specialist equipment that might require a more specific policy.
Expert advice
As is often the case with specialist products such as motor trade insurance, the best way to ensure you are getting the coverage you need and to get a policy tailored to your own business, it's best to speak to a dedicated broker such as ChoiceQuote. Not only will they understand the ins and outs of the various insurance products that providers offer, they may be able to save you money through various means.
For example, if you need to insure your business premises, tools or similar alongside your motor trade policy, an expert broker will be able to advise on how to keep those premiums down.
ChoiceQuote offers a range of other features in motor trade policies that can help keep costs down, such as liability cover, personal accident cover, insurance for money held on-site by your motor trade, and can even organise an engineering inspection policy which gives you access to trained engineers who will inspect your equipment and certify that it is safe.
There are also certain covers that may be beneficial for certain types of traders. If you run an MOT station, for example, you might want to take out a loss of MOT licence product in the event that an unfortunate occurrence could stop your business from trading. General business interruption insurance can also help protect from a non-specific threat to your trading, to extend cover to include any shortfall should your business not be able to trade as usual. A broker can also ensure that you accurately value your business and the potential financial impacts on it.
Of course the opposite is also possible, and without guidance you may underestimate the value of your premises, machinery, tools or even stock, making your insurance premiums look cheap. Being underinsured means, however, that the insurer would only pay out the amount that you have (under) valued your business at should you make a claim or – worse – could decline your claim altogether.
Speaking to a specialist broker like ChoiceQuote will ensure that not only do you get expert advice on what various insurance products will cover and what extras might be worthwhile for your motor trade business, but you could save money thanks to their value-added service.