Luxury scooter at an affordable price?
Before anyone asks this is not a Chinese scooter brand!
KYMCO are a well reputed Taiwanese manufacturer established 1963, employing over 3000 people with 250 solely in R&D. It is one of the world's largest manufacturers of scooters, ATV's and motorcycles exporting to 73 countries worldwide. Until approximately seven years ago motorcycle manufacturing giant Honda had a significant share holding in KYMCO and made product under licence for Honda.

Clear branding on the Kymco Xciting 500i
I'm glad we've established that as I don't want anyone to have any preconceptions about KYMCO, for as soon as you see the Xciting 500i you will realise that this scooter oozes quality and luxury, on a par with the best the Japanese can offer.
Let's set the scene for this new model from Kymco. This is a model development from the previous Xciting 500 maxi-scooter which was a carburetted 498cc single. This updated model, note the "i" upgrades the scooter with automatic fuel injection which meets the Euro 3 standard. There's a badge on the scooter proudly proclaiming this!

Euro 3 compliant

A luxury maxi-scooter – the Kymco Xciting 500i
This is a physically large scooter, weighing 221kg, and with a length of 2,255mm and a width of 810mm it somewhat takes you aback with its presence. However don't let the bare statistics put you off, if this were a sports touring motorcycle those figures would be perfectly acceptable. Herein lies something to answer what sort of scooter the Xciting 500i is? It's a luxury maxi-scooter, able to cope with long distance commuting as well as the trip down to the shops and dare I say it, even some serious touring.
Motorcycle or Scooter?
My test model was finished in the standard but very smart silver. The front end of the Xciting is very much like a motorcycle in appearance, with a raked body fairing housing a built in halogen headlight, side lights and white glass style indicators, topped off by a large screen. An even larger, taller touring accessory screen is available. Already you can see this scooter has touring potential.
The bike, oops I mean scooter, has standard hydraulic forks up front, but more typical scooter twin chrome shrouded adjustable dampers at the rear. The stylish 15″ alloy front wheel is equipped with twin ventilated discs each with a twin piston calliper and the rear 14″ alloy wheel has a single ventilated disc with single piston. Both have steel braided brake hoses, a nice quality touch.

Plenty of storage!
The quality continues as soon as you step aboard the Xciting 500i. With the stainless steel bar ends, the comprehensive instrument panel and span adjustable levers. For the most part the instrument panel is excellent with the three chrome bevelled instruments displays one, housing an analogue rev counter, one an analogue speed and one a fuel gauge and water temperature gauge. Plus there's a digital mileometer and trip meter and clock and two panels of the standard range of warning lights.
However one minor niggle is apparent with the speedo. When riding the Xciting, the clear white figures are in fact kph, whereas the smaller dull red on black figures are mph. I found the mph figures somewhat difficult to read, particularly if the sun was behind me, shining onto the clear plastic instrument cover.
One big surprise is the bike has a separate parking brake (like a car), which can be a boon when parking up on steep incline and just for the added piece of mind that the bike won't roll off its side or centre stand.
An accessory rack and colour matched top box also enables the already sizeable onboard storage to be added too.
There's small lockable glove box in the front fairing, a cubby hole in the front of the seat and then there's the large amount of storage space under the seat which opens via the multifunction dashboard ignition lock and rises cleanly on a gas strut. The ignition lock also serves to open the car style petrol filler in the front dash and acts as a steering lock. I did find myself inadvertently opening the petrol cap several times though. Adding to the luxury touches there is an under seat mobile phone charger socket.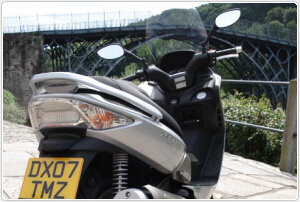 Rear view of the Kymco Xciting 500i

Affordable luxury – the Kymco Xciting 500i
The well padded king and queen style seat is wide and comfortable and cushions your posterior from the worst of the British "pot hole ridden" roads and the outstretched legs riding position, soon have you feeling like your sitting in a comfy armchair rather than on board a large maxi scooter.
Turning to the rear of the bike the upswept clear tail light and indicators blend perfectly with the rakish styling and the large silencer in grey with the unusual gattling gun style all sit together to produce a visually appealing package.
Scoot or luxury ride?
First thing to remember this is a "twist and go", no clutch to slip, there's almost instant power and acceleration on tap and this is no 50cc scooter there's a whole 500cc to play with. So safety is paramount, you can't start the bike using the electric star button unless the stands are up and a brake lever is applied.
What an altogether pleasant and relaxing experience riding the Xciting 500i is. The power on offer is more than adequate, the 498cc single water cooled DOHC engine produces 28.2Kw at 7000 rpm and is fairley torquey (as you would expect a single to be); producing 40.6Nm at 5,500 rpm. Cruising at legal permissible speeds is well within its gambit and the automatic CVT transmission means that the engine is generally always giving of its best. The automatic transmission operates seamlessly and adds to the smooth ride. Attempts to redline the scooter are futile as the CVT constantly adapts the ratios, I think I managed a heady 7,000 RPM, the scooter redlines at 8,000rpm and it's only at this point the merest modicum of vibration sets in; for 99% of the time you won't be revving your Xciting this high. Performance is surprising, the Xciting picks up quickly and smoothly and the upgrade to fuel injection has not produced any of the low throttle hesitancy or flat spots that could be expected. Once on the move, overtaking traffic on the open road was a fuss free affair. Whilst the big fairing and screen cosset you from the worst of the wind blast and provide a modicum of protection from light rain.
Those who are not used to riding scooters, will be surprised at how well this maxi scooter handles, I found myself very quickly gaining full confidence in its handling, enabling me to hustle it along and around fairly tight corners, with an ease that surprised me. Plus when I looked down at the speedo the average speeds and cornering speeds being achieved where a surprise. I would almost say the handling was spirited or is it even exciting? Top speed is claimed as 95mph, but I would say this is an under estimate given my riding of the Xciting. The wide tyres (120/70-15 front & 150/70-14 rear) and firm suspension produce taut handling that does not dive or pitch. The scooter is very stable under most conditions, however one down side of the taut suspension (which I have to add in its defence was not set up for my weight, but someone 4 stone lighter) is it can lead to a "jiggly" ride on the poorest of road surfaces.
The brakes are excellent, very firm and provide plenty of feedback, but some care is needed when just applying the rear brake which can be a little aggressive in its application, but you soon get used to it.
The Xciting is very manoeuvrable at low speeds and 360 degree turns with its tight turning circle can be achieved without putting a foot down This is a big scooter and you need to be fully aware of its size when in traffic, though the excellent manoeuvrability really helps.
It's the comfort levels, the non contorted riding position, the taut handling and spirited performance that actually tend me to think, that you could in fact tour on this maxi scooter. It's far more than a pop down the shops or ride into work machine. You could pack the necessary essentials aboard and go away for a few days touring on this scooter, confident in the fact you'll arrive feeling comfortable and having covered the distances possibly no less quick than on many a touring motorcycle.
Affordable luxury
Where the Xciting 500i scores highly is its price and running costs. I didn't have the Xciting on test long enough to run absolute MPG tests but the UK importers tell me it will do about 65MPG. Servicing is in the region of £80* for an interim service and £125* for a major service. The service interval is 6,000 KM or six months. However it's the purchase price which is the clincher the Suggested Retail Price is only £4299**, which compares favourably with the prices of the leading Japanese maxi scooters. Plus there is a two year unlimited mileage warranty.
So in conclusion it does seem you can have you cake and eat it; the KYMCO Xciting 500i is a luxury maxi scooter which it would seem is also at an affordable price.
Article and Photos by Jon Booth – www.inter-bike.co.uk – The UK Biker Site. Note all performance figures, weights and technical specifications are as claimed by the respective manufacturers
Sponsor: ChoiceQuote Motorbike Insurance – Cheaper Motorcycle Insurance Cover.
Thanks to Masco Ltd ? KYMCO UK for the loan of the KYMCO Xciting 500i
*Note service costs are an indication only and will depend on local dealer labour rates
** Suggested Retail Price – Includes PDI, delivery, number plate, VAT, 1st registration fee and 12 months road fund licence.
Note all performance figures, weights and technical specifications are as claimed by the manufacturer