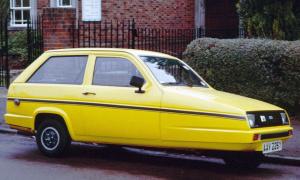 A mechanic in Northamptonshire has transformed the iconic Reliant Robin from Only Fools and Horses into a flying car.
Del Boy and Rodney got up to a fair amount of mischief in the yellow three-wheeler, but Bobby Frankham, 49, has taken this to all new heights. The car mechanic added a new two-stroke 65hp engine, a parachute, a propeller and some larger rear wheels to the replica vehicle, giving it flying ability.
While Mr Frankham's ambitions might be taking off, for the majority of mechanics who keep their wheels firmly on the ground it is important they have a road risks insurance policy in place. Whether they are driving three-wheelers or a standard hatchback, this insurance will enable a mechanic to get behind the wheel of other people's vehicle to test for repair work or transport the cars.
The flying Reliant Robin can be seen in the skies at the Sackville Farm Airfield in Riseley. After buying the 1973 model from France last September and adding the unique customisations to it, Mr Frankham, who has also built an amphibious Reliant Robin, hopes that his new airworthy vehicle could now be worth £7,000.
He said: "I like cars and flying and I'm a mechanic by trade, so I thought I would combine the two to do something creative.
"I remember the first flight well – I've always wanted to be a test pilot. I pulled the throttle back, I think I had my eyes shut for a bit, but when I opened them, to my amazement it was flying. From that point I just kept it straight and not too high. When I landed, I did a pope; bent down and kissed the ground."