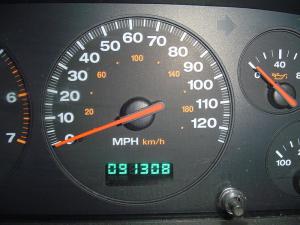 Clocking cars has long been an issue within the motor trade industry, but now it is the dealers who are falling victim of the illegal practice, according to Glass's.
The motoring guide says that motorists in the UK are now tampering with the odometer within their vehicle so that when they take it to a used car dealer they can claim more money for it. The practice is also reportedly occurring when a motorist has a vehicle on a fixed-mileage lease and does not want to show that the mileage has been exceeded, which can result in penalties equalling thousands of pounds.
Having the incorrect mileage displayed in a car is not only illegal by trading standards but it can lead to unexpected issues with the cars, which can cause accidents on the road. As used car dealers could potentially be stung by motorists clocking cars, they need to obtain a road risks insurance policy; this will provide cover for the vehicles they have to drive for business purposes in case they are damaged in an accident.
Glass's has stated that drivers are increasingly turning to mileage-adjustment companies that use specialist equipment to artificially reduce the number of miles showing on the odometer. The issue is difficult to tackle because it often involved vehicles that are under three years old, which means there is no MoT certificate and often only one service stamp, thus making it hard to prove that mileage has been altered
Rupert Pontin, head of valuations at Glass's, said: "At this stage, it is very difficult to say how widespread this practice might be but we are certainly seeing an increasing amount of industry 'chatter' about the subject and it is considered a growing problem."