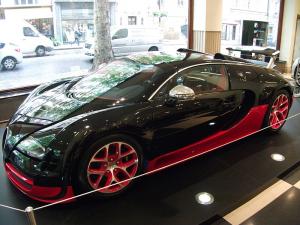 Thieves have targeted high-value vehicles in break-ins at car dealerships at opposite ends of the country, in one case damaging a top of the range Bugatti and in the other, escaping with a Land Rover.
Showrooms need to ensure their security is adequate to protect the vehicles inside when the dealership is closed. It is also vital that these businesses have the correct level of protection with your motor trade insurance to cover all eventualities, particularly because high value cars are such common targets for thieves.
In Leeds, a 2006 Bugatti Veyron worth almost £900,000 was vandalised during a break-in at Kahn Automobiles. The car's windscreen was damaged in the attack, which was carried out by a man with his hood up. He broke a window at the showroom with a metal bar to get inside and is now being sought by the police.
Meanwhile in Devon, thieves got away with a Land Rover Discovery worth £10,500 after breaking into a dealership in Plympton.
The silver Land Rover was taken from Plympton Van and Car Sales overnight between November 12 and 13. The thieves searched the office for the keys, leaving behind a mess, and drove off in the Land Rover. It is believed the vehicle was taken north up the M5.