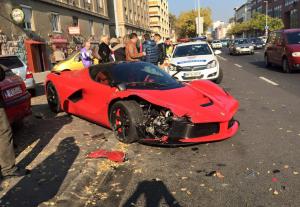 There are few things more exciting than getting your hands on a new car, but it is important not to get carried away in the moment.
A motorist in Budapest has provided a stark reminder of this. The unnamed driver had only just bought their new LaFerrari, which comes with a price tag of £1 million, when they accelerated out of the dealership in the Hungarian capital and moments later crashed into three other cars that were parked opposite the forecourt.
The story demonstrates that driving unfamiliar cars can be tricky. Car dealers and mechanics have road risks insurance to provide cover for the wide range of different cars they have to drive for work on a daily basis, although special policies are required for high performance vehicles such as Ferraris.
Ferrari only made 499 of its LaFerrari supercar, and one of these is now in need of some vital repair work. As the picture shows, serious damage was done when the new owner lost control of the 950 horsepower hybrid that can hit 62 mph in under three seconds.
Thankfully no one was hurt in the incident. However, reports say this Ferrari was registered in neighbouring Slovakia; immediately after the crash the driver rushed out to remove the number plates, perhaps to avoid being identified.
According to the Daily Mail, the crash in Budapest this week is the fourth involving one of Ferrari's most exclusive cars. The first took place in Monaco in 2014, while this year has seen a LaFerrari in China and another one in France suffer the same fate.