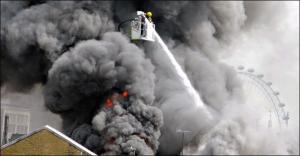 A police investigation is underway after eight cars were destroyed by fire in a suspected arson attack at a dealership in Manchester.
The fire completely destroyed eight vehicles on the forecourt of the Inchcape Volkswagen dealership in the Old Trafford area of the city. The fire was close to the city's Metrolink tram service but it was not affected by the smoke and flames and no one was hurt in the blaze.
In most cases of fire at motor businesses, accidents, electrical problems or malfunctioning equipment is found to be responsible for the problem. But on some occasions, firms can be deliberately targeted by criminals. It's important to protect your business interests against fires of either sort, and a good motor trade insurance policy with the right level of coverage is an essential part of your business planning, whatever size of dealership you operate. As well as the contents of your business, you should also insure the fabric of your premises against damage.
The Old Trafford dealership fire broke out mid-evening, just yards from the city's Cornbrook tram stop. The fire was reported by worried members of the public who saw "thick black plumes" of smoke emerging from the dealership, the Manchester Evening News reported.
Although eight cars were gutted by the fire, firecrews were able to stop the blaze spreading to other vehicles and adjoining buildings. No one was injured in the fire and the thick smoke did not affect the nearby tram service.
Greater Manchester Police sent in forensic experts to comb the scene after the blaze was put out. A spokesman confirmed that the fire was being treated as suspected arson.
Inchcape, which is headquartered in London, operates car dealerships across the UK and in more than 25 countries around the world. The company is listed on the London Stock Exchange.