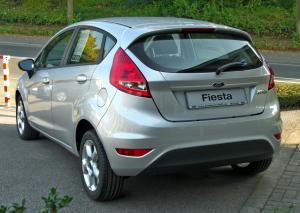 Ford's Fiesta hatchback was the fastest selling used car in Britain during 2015, according to just-published data from Auto Trader.
The magazine normally produces monthly figures calculating how fast different used vehicles sell, looking at the regional and national picture. Its annual statistics show the Fiesta took an average of 29 days to sell and on a regional basis, both the Fiesta and Ford Focus appeared in every top 10 list of the quickest sellers for the year.
Research like this is a valuable tool for used car dealers when deciding which vehicles to stock. If you're looking to change your stock or add to it, make sure you have the right level of motor trade insurance and also a good road risks insurance policy in place.
According to the Auto Trader analysis, the Vauxhall Insignia and Toyota Prius also took an average of 29 days to sell. This was the first time a hybrid or alternatively-fuelled vehicle has appeared in the national top 10, showing that customers are now increasingly looking at greener electric cars. The Vauxhall Corsa also remained a popular choice with models appearing in the top 10 for nearly every UK region.
However, Ford remained the top brand overall. The Fiesta was especially popular in the East of England, where it appeared in five positions in the top 10 – first, second, third, fifth and eighth. The Ford Focus was seventh and tenth position on the East of England regional list.
Auto Trader's Karolina Edwards-Smajda said: "2015 has been a phenomenal year for Ford, topping both the new and used car lists with its Fiesta model.
"The versatile and economic hatchback is likely to only increase in popularity as Ford announce plans to make their vehicles even more efficient at the Detroit motor show last week."