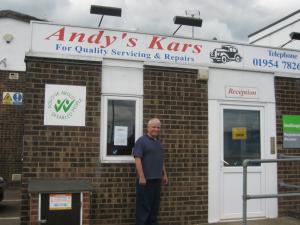 A motor trade boss has been honoured by the industry for the work he has done with disabled people.
Andy Kent runs Andy's Kars at Bar Hill in Cambridgeshire. Not only does the business repair and service cars but it also specialises in adapting vehicles for people with disabilities. He has also run the charity Andy's Ark, which helped disadvantaged and disabled young people get a foothold in the motor trade, in 2009.
The Institute of the Motoring Industry (IMI) presented Mr Kent with an award for outstanding individual achievement at the organisation's annual dinner in London.
As part of any repair, servicing or modification work, car mechanics will need to drive the vehicles they are working on to ensure everything is running as it should. In order to do so, the mechanic will require a road risks insurance policy, which will protect the car they are driving as well as other vehicles on the road, just in case they should be involved in an accident while behind the wheel of someone else's car.
Mr Kent, 58, has come back from near fatal health conditions and himself uses an electric buggy, Cambridge News reported. Having suffered from problems while at school, the garage boss blossomed after his father suggested he went into the motor industry.
He commented: "It is a brand new award this year. I was gobsmacked to hear I had been nominated and was really pleased to get it.
"For many people the challenges they have you wouldn't know about just to look at them, but these hidden challenges, such as difficulties with speech or movement, or psychological issues, mean people need our support.
"We try to show people who may have lost hope that there is still a life worth living for them, that they can make it happen."