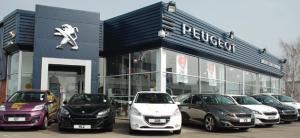 A car dealership in Ilkeston has achieved a new higher level of business status, having been judged as upholding excellent standards across the board.
Bristol Street Motors, a Peugeot dealership in Derby Road, has been awarded Peugeot Business Centre status after a series of investigations, the Ilkeston Advertiser reported. The dealership achieved excellence in 35 specific areas and joins the exclusive list of traders in the UK to have gained this status.
Proving it has industry-leading standards will not only help a dealership gain superior business status, it can also help when it comes time to obtain a combined motor trade insurance policy. By boasting state-of-the-art security features and showing due diligence has been undertaken to prevent crime or accidental damage, a business can lower the cost of its insurance policy.
The Peugeot Business Centre scheme was launched at the beginning of 2014 to ensure customers get the best service possible. There are 88 dealerships in the UK with the status.
Edward Tristram, general manager at Bristol Street Motors, Ilkeston, commented on the news: "To receive Peugeot Business Centre status is a real honour for everyone connected to our dealership"
"A review process makes sure we're offering the best service to customers in Ilkeston, and I'm proud to say we passed with flying colours."