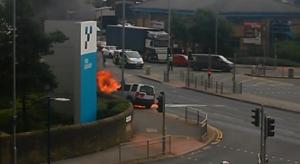 A Land Rover that was on its way from an auction house to a car dealership has been destroyed after it burst into flames in the middle of the road.
The silver Discovery model was travelling down Rooley Lane en route to a Yorkshire car dealer when the fire started under the bonnet, the Bradford Telegraph & Argus reported. The driver, who was taking the vehicle from an auction site to the trader that had bought it, was able to escape unharmed while the vehicle sat burning by the roadside.
The unusual incident illustrates the benefits of motor trade insurance; a road risks insurance policy will cover an employee to drive other people's cars as part of their business operations, thereby offering cover to vehicles in transit. However, it is important that a dealership ensures the motor insurance database (MID) is updated with new purchases so that the vehicles are included under its insurance policy.
The Land Rover was destroyed by the fire, which is thought to have been caused by an engine fault. Firefighters from the Odsal station tackled the blaze, but the incident reportedly caused major traffic congestion as the flames were extinguished.
According to the Bradford Telegraph & Argus, "the driver was shocked by the incident, but unharmed".