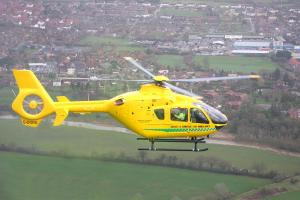 A mechanic in Nelson has been airlifted to hospital after he was injured while working on a car.
Victim Imran Mohammed, 34, was repairing the vehicle at Norfolk Street Garage when a jack slipped from under a wheel and hit him. A helicopter attended the scene and flew him to Royal Preston Hospital, only for doctors to say after 10 minutes of tests that he could be released later that day.
Mr Mohammed's emergency might have been blown out of proportion but it illustrates the need for garage owners to think about protection of their staff in case of accidents in the workplace. Along with the essentials like road risks insurance, those running car repair businesses should also obtain employer's liability cover as part of a combined motor trade insurance policy to offer support in instances such as this.
Recounting the strange story to Pendle Today, the mechanic said: "It was a bit of an embarrassment that they lifted me to hospital in a helicopter, but after I'd been there for 10 minutes they said I would be going home later that day. The jack moved slightly and just banged my arm. Imran [Imran Aslam, the garage owner] decided that we wouldn't take risks.
"I was pleased that they all helped me – both the garage staff including Imran, and the emergency services! I'm fine now!"