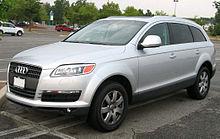 A car dealer and service centre has "unreservedly apologised" to a customer after his onboard online tracker showed a member of staff drove his car at 106mph when he took it in for a service.
Building firm director Richard Elliott took the £50,000 Audi Q7 V12 into Teesside Audi in Stockton for the work and discovered the speeding incident after he collected it.
In addition to good motor trade insurance it is important to have a comprehensive road risks insurance policy if members of staff are driving customers' cars. However, it's also vital to handle customers' vehicles with respect in order to retain their trust and custom.
Mr Elliott told the Middlesbrough Gazette: "The car is quite rare and the staff even commented that they'd never seen one before when I dropped it off. You trust the business to behave professionally, not speed round in your vehicle."
Teesside Audi said that action had been taken against the staff member who had driven Mr Elliott's car at excessive speeds.
A spokesman said: "We wish to sincerely apologise to Mr Elliott for this unfortunate incident and can confirm the member of staff concerned has been disciplined as a result of the information which was brought to our attention.
"Our company policies are very clear with regard to the duty of care for both customer and company vehicles, however we can confirm this was an isolated incident and the appropriate actions have now been taken."
The dealership put the staff member on a final written warning and ordered him to cover the cost of the service. In addition, it fixed a dent found in the car door free of charge and offered Mr Elliott a further free service.
Mr Elliott also said there was damage to an alloy wheel that he could not be certain had been caused at the service centre. The dealership said this was a separate incident.