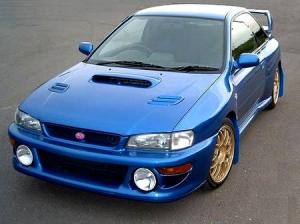 A Subaru that was stolen from a car garage in Wales has been found and returned to the business without any damage.
Thieves sneaked into GroupB Motorsport in Queensferry during working hours and took one of the customer's cars from inside – an £18,000 Subaru Impreza. They drove the vehicle away but were caught by police the same day after a tracking device was turned on.
Whether a car dealer is selling their own vehicles or a garage is repairing other people's, it is important these businesses have a motor trade insurance policy in place to protect the cars that are stored on the premises both during the day and over night. Combined motor trade insurance can also include cover against damage or theft for the building itself and the tools, part and equipment stored on site.
Richard Edwards, service manager at GroupB Motorsport, said: "We were open. They came into the building and stole the keys.
"It had a tracker fitted but it wasn't activated so I had to find a tracking company to see if they could switch it on – which they did and they found it in Leeswood."
A police helicopter was used and the stolen car was located within just three hours of being taken, News North Wales reported. The Subaru was found abandoned and police are yet to make any arrests in connected with the robbery.