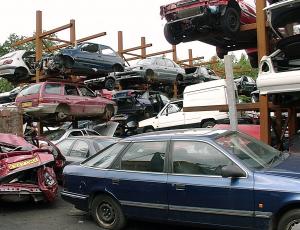 05 March 2014

Motor trade insurance does not just offer cover to car traders but also provides policies for scrap, salvage and vehicle dismantlers. This is good news for a Stalybridge-based vehicle salvage firm that came under scrutiny after its employee was crushed by a half-tonne car.

An unnamed 22-year-old man from Ashton-under-Lyne suffered multiple broken bones, a fractured pelvis and a partially collapsed lung when a car weighing over half a tonne fell onto him from a forklift truck on 25 September 2012. North End Salvage Services Ltd, the firm where he was working, has since been taken to court over the matter and subsequently fined.

The company will now need to check its specific motor trade insurance policy regarding how to proceed, having been found guilty of failing to meet multiple safety regulations.

An investigation conducted by the Health and Safety Executive (HSE) found that the forklift truck in question was not safe to use. As such, the decision to allow the mechanic to climb under the car being held up by the forklift in order to drain its fuel, was unsafe.

A hearing at Trafford Magistrates\' Court revealed that although the company did have a purpose-built frame which it used for emptying the fuel tanks of cars prior to them being crushed, it was not used on this occasion. The worker, the court heard, was crushed by vehicle when the forklift truck\'s chains gave way the result was a number of serious injuries which resulted in the mechanic having to wear a spinal brace for three months and facing ongoing problems when bending and lifting.

The investigation discovered that North End Salvage Services had failed to carry out an annual service on the forklift, meaning issues like low levels of hydraulic fuel, rusty chains, and a faulty handbrake and horn, were not addressed.

The company pleaded guilty to breaching the Health and Safety at Work etc Act 1974, Provision and Use of Work Equipment Regulations 1998 and the Lifting Operations and Lifting Equipment Regulations 1998. The firm was ordered to pay £6,000 in prosecution costs and was fined £5,000.

HSE inspector, Lorna Sherlock, said after the hearing: A young employee suffered severe injuries which are likely to affect him for the rest of his life because of numerous health and safety failings by North End Salvage Services.

The company had equipment which could have been used to drain the fuel tank safely but instead it allowed a worker to stand under the vehicle while it was being lifted by a forklift truck. It\'s shocking that the firm allowed multiple faults to develop on the forklift, any one of which should have been a reason to take it out of use. Instead, it continued to be operated and an employee was badly injured as a result", Ms Sherlock added.